Are You Addicted To Kayak Fishing?
IF SO, THEN JOIN THE CLUB!
Thank you to all of you who enjoy my videos! And to you who have SUBSCRIBED to the channel, please know that I truly appreciate it! You've blown my mind! You're fueling the growth of the channel and showing your loyalty and I truly appreciate that!
Today, I'm announcing a new way that viewers can support the channel, if you decide to do so; namely, MEMBERSHIPS, and they come with a few membership perks. What does that mean?
Before I describe memberships, first, let me assure you, the viewer and hopefully subscriber, that THE VIDEOS I'M PRODUCING WILL CONTINUE TO BE FREE TO VIEW…. sorry for screaming that, but I want to make that point crystal clear. If you've been enjoying my videos, no worries, keep watching and liking and sharing and subscribing! It won't cost you a dime! I promise. That won't change! Feel free to stop reading here and go about your business! Thanks for your time!
MEMBERSHIP ANNOUNCEMENT – JOIN BUTTON
So what's this membership announcement all about? Memberships offer creators like me the opportunity to offer you an extra experience while at the same time offering you a way to support the channel. And they come with a few perks. To become a member you click the JOIN button on any of my videos!
SPONSOR – MEMBERSHIP LEVEL
You can be a sponsor of the channel! When you join at this level you get a members only loyalty badge next to your name when you comment. You'll also get access to members only community posts, photos, and updates in the Community tab of the channel. Oh, and your badge will change over time the longer you sponsor the channel. That's neat!
ADDICT – MEMBERSHIP LEVEL
Join at the Addict level if you just can't get enough and you need help…LOL! At this level you get everything you do at the SPONSOR level, but I'll also throw in some raw, unedited, behind the scenes footage from time to time on the Community tab just for you! But honestly, you may need to seek some professional help! Repeat after me, "Hi, my name is [insert your name], and I'm a Kayak Fishing Addict!"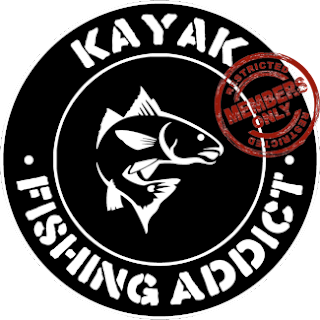 Addict member videos are marked with a badge.
I may add some bonus perks here and there and you can discontinue your membership at any time too. Either way, thanks for your support!
Sincerely, ~Kayak Fishing Addict (aka Ron)
FAQ
Q: Are you putting your videos behind a paid wall?
A: No! The videos I'm producing will continue to be free for all to view!
Q: Aren't you already supported by Advertisers?
A: Yes! I'm in the YouTube Partner Program so YouTube splits advertiser revenue with me for the advertisements you see on the videos. Thanks for watching those and visiting the sites if they offer something you'd like!
Q: I notice you've got affiliate links in the descriptions. Do you earn from those too?
A: Yes! I share links to products that I use and recommend. If you use those links to make purchases, as is always stated in the descriptions of my videos, I may "earn from qualifying purchases." Thanks for using those links!
Featured Partners
Visit some of my affiliate partners for great prices on gear!
Q: Can I shop the gear you use?
A: Absolutely!
Q: Can I just buy a sticker, mug, or tee shirt instead?
A: Absolutely!
Q: Can I just donate directly?
A: Absolutely!
Donate