As fishermen and fisherwomen we fill our tackle boxes with lures and artificial bait that we feel confident will put fish in the boat! Let me show you why this lure is a fantastic addition to your tackle box. Honestly, it's quickly becoming my favorite hard bait!
As you know, hurricane Ian blew through this part of Florida a few weeks ago. It's caused havic to the marsh system! The downpour of rain has stirred up all of the sediment in the marsh leaving cloudy and dark water that will likely be here for many months. The fish are just now starting to come back mainly because they have to eat to live. They don't seem to truly like the water quality though.
In conditions like this, you need to use lures that appeal to more than just their site. The Rapala X-Rap Twitchin' Mullet is just the ticket. The action, vibration, sound of this lure is just what is needed to provoke that reaction bite!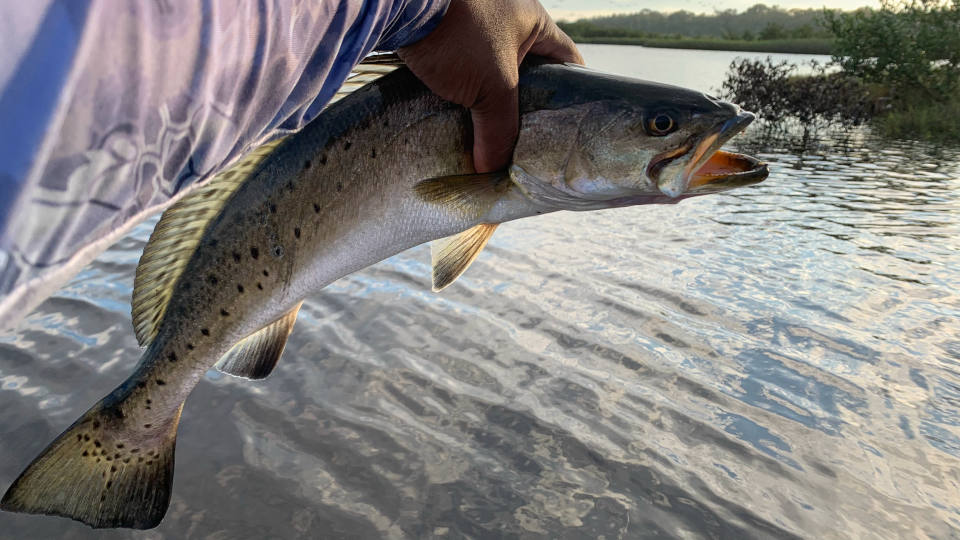 This 19 3/4″ speckled trout (spotted sea trout) sure thought so!
The Backstory
I finally got the opportunity to hit the marsh weeks after the hurricane blew through. I've been involved in helping those impacted by the storm get back on their feet, so important life issues continue to take priority. That said, it sure is a good and peaceful day when you get out on the water! That's fishing.
Recent DJI mini 3 pro firmware updates continue to improve the drone footage. I don't feel like I did the best job with the color on this one, it was such an overcast day and thus there were lots of lighting differences that made it challenging.
Overall though it was a great day of fishing. I was able to land these two fish after spotting those beautiful dolphin and reasoning that the fish must have moved to the back of the marsh in order to avoid them. After all, those dolphin are better fishermen and fisherwomen than I am for sure! As soon as I moved through that S-curve you see in the video, I started seeing signs of fish. So there's the lesson, when dolphin are in the marsh, move towards the back of the marsh and you'll find the fish.
Thanks for watching and tight lines!
~Kayak Fishing Addict